RDM EC9104f
B&W/Grayscale Auto Feed Duplex Check Scanner with MSR, Endorser & Franker

30 cpm List Price: $779.00
30 cpm New Price: $695.00
90 cpm List rice: $779.00
90 cpm New Price: $707.00
30 cpm with OCR List Price: $849.00
30 cpm with OCR New Price: $779.00
90 cpm with OCR List Price: $889.00
90 cpm with OCR New Price: $791.00
Call or Email for quantity discounts

The RDM EC9104f auto feed check scanners are affordable, compact, and efficient. The multifunctional capabilities of the scanners enable your business to capture and process any combination of payment types including: checks, remittances, payment cards, loyalty cards and ID cards. They also offer check defacement, endorsement and receipt printing capabilities – all on a single device.

Industries Highest Accuracy
The RDM EC9104f auto feed check scanners deliver industry leading MICR read rates and superior image quality which surpass industry requirements. With multiple models to choose from, one small multifunctional device can capture checks, remittances, payment cards, ID cards or print receipts.

Available in both single-feed (SF) and auto-feed (AF) models, the RDM EC9104f scanners are designed to fit your workflow volumes and are priced to fit your budget. The AF series models enable batch scanning at speeds up to 30 or 90 documents per minute (dpm).




Compact & Efficent
RDM's EC9104f auto feed series scanners are designed to eliminate the clutter and inefficiencies often created by larger check scanners and multiple payment capture devices. These compact scanners fit on your desktop or counter, combining functionality and performance in a small footprint.

The EC9104f features fast, single-pass document imaging using a vertical feed transport virtually eliminating skewing and jamming. It also incorporates RDM's industry recognized MICR and check imaging technologies to consistently deliver precise MICR read rates and premium images that are fully compliant with industry standards. Like all RDM check scanners, each unit is factory calibrated before shipping, eliminating the need for time-consuming field calibration and simplifying the deployment process.

Multifunctional & Affordable
Do away with multiple devices for processing payments. With several models and options to choose from, RDM's EC9104f series scanners enable you to process any combination of checks, remittances, credit cards, ID cards and receipt printing on a single peripheral device. Most EC9100i series check scanners have a 2-port USB hub which allows connectivity to a range of peripherals including EMV pinpad and signature capture devices. RDM's scanners are also certified with, and connect easily to, many PC-based payment applications.

The EC9104f series has one of the lowest costs of ownership in the industry and includes a 2 year manufacturer's warranty. The high-capacity franking cartridge helps to minimize your consumables expenses. You'll also experience reduced maintenance, support and training costs when compared to using multiple devices. Additionally, with a life expectancy of 5 years or 1 million documents under normal usage RDM scanners have one of the longest lifespans in the industry.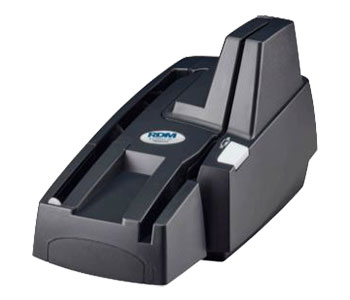 Bi-directional Magnetic Card Reader



Highest MICR read rate in the industry



Black and white, resolution 200 dpi