RDM EC7511f
B&W/Grayscale Single Feed Duplex Check Scanner with Franker

List Price: $449.00
New Price: $383.00
OCR Licensed List Price: $499.00
OCR Licensed Price: $431.00
Call or Email for quantity discounts

Check scanning made simple with the RDM EC7511f series check scanners are the most affordable, compact, and operationally-efficient scanners on the market today. These multifunctional check scanners enable your business to process low volumes of checks or remittance documents with years of reliable service.

Industries Highest Accuracy
The RDM EC7511f series check scanner is specifically designed for low volume billers and small business merchants for Remote Deposit Capture, Electronic Check Conversion and Walk-in Bill Payment applications.

All within a compact design, the RDM EC7511f offers connectivity to PC based applications through its USB 2.0 port. The RDM EC7511f includes duplex imaging and, through the use of RDM's patented Progressive MICR method, delivers superior MICR read rates right out of the box. It can additionally be configured with optional features such as a franking, internal alphanumeric OCR A and B character recognition, and 3 track bi directional magnetic stripe reader (MSR). With 30 years of industry experience in MICR and Imaging technology, RDM stands behind the EC7511f series scanners with a standard 2-year warranty.




Compact & Efficent
RDM's EC7511f series check scanners are engineered for maximum functionality with minimal footprint. This line of compact scanners fits on your desktop or counter, meaning you can process payments with little impact on your working space.

The RDM EC7511f check scanners offer duplex document imaging, incorporating RDM's industry-recognized MICR and check imaging technologies to consistently deliver precise MICR read rates and premium images that are fully compliant with industry standards. Like all RDM check scanners, each unit is factory calibrated before shipping, eliminating the need for timeconsuming field calibration and simplifying the deployment process.

Multifunctional & Affordable
Do away with multiple payment devices for processing payments. With several features available, RDM's EC7511f series scanners enable you to process any combination of checks and remittances on a single peripheral device. They're also certified with, and connect easily to, many PC-based payment applications.

Like all RDM check scanners, the EC7511f series has one of the longest lifespans and lowest costs of ownership in the industry. These devices handle your paper and card-based payments at an affordable price. The low-cost, high-capacity franking cartridge helps to minimize your consumables expenses. You'll also experience reduced maintenance, support and training costs when compared to using multiple devices. RDM's scanners have one of the industry's lowest field failure rates.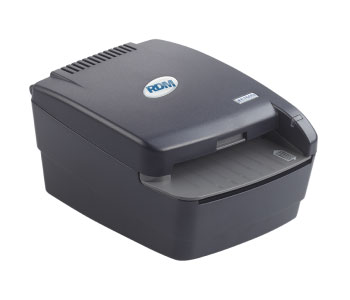 Highest MICR read rate in the industry



5-year Life Expectancy



Black and white, resolution 200 dpi