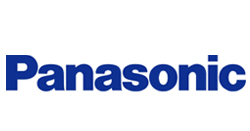 Panasonic KV-S1045C-V
Color Duplex Scanner With VRS


List Price: $1,425.00
New Price: $1,000.00
Call or Email for quantity discounts

The KV-S1045C-V is a direct response to user requests for a faster, higher-capacity scanner that incorporates the imaging excellence, advanced feature set, and legendary reliability of our Better Buys for Business and AIIM award-winning KV-S1025C. With maximum capture speeds of 40ppm and 80ipm in both color and monochrome, the KV-S1045C-V is 35 percent faster than the KV-S1025C. It also holds 50 percent more documents, up to 93 sheets (17lb) and delivers all this additional performance while maintaining the KV-S1025C's compact, 8.6" x 12.5" ' x 7.2" footprint and under-10lb. weight.

The KV-S1045C-V supports mixed batch scanning of documents ranging in thickness from 11 to 55 pounds simultaneously with single hard cards, stacked hard cards and/or embossed hard cards as well as, via the optional seven-pound KVSS080 flatbed module, scanning of two-page spreads, bound volumes and other odd or oversized documents. With its built-in Ultrasonic double feed prevention sensor and new torque limiting feed mechanism, the KV-S1045C-V can handle volumes of up to 1,500 sheets per day.

Fast Scanning
Real-time auto-rotation, auto-color recognition and other powerful features that enable it to scan at an impressive class leading 40 ppm/80 ipm in color or monochrome, landscape.



Automatic Image Orientation
Even when documents are set in different directions, this function detects the direction of the scanned text and automatically rotates the document into the correct direction. This boosts work efficiency by eliminating the need to change the direction of each page in advance when scanning large quantities of documents with various sizes and directions.



Bundled Scanning Software Increases Productivity
Adobe® Acrobat® Standard and ScandAll Pro are included with the Panasonic KV-S1045C-V scanner, which allow you to quickly and easily integrate your workflow.

Full Color Duplex Scanning



VRS Professional Workgroup



High Speed USB Interface