Specifications
Features
Accessories
Parts
In the box
Warranty
Model

Contex IQ Flex
Resolution
1,200 dpi
Enhanced resolution
9,600 dpi
Scanning speed (inch/sec.)
Full scan bed in 6 seconds
200 dpi RGB Color
200 dpi Grayscale / Monochrome

Full scan bed in 6 seconds


Scan accuracy
0.1% +- 1 pixel
Maximum thickness
Unlimited
Data Capture (color/mono)

48-bit / 16-bit
Color space
Adobe RGB, Device RGB, RAW RGB, sRGB
Interface
Gb Ethernet, Network PC's, Cloud, Email, Copy and USB key
Weight/dimension/power

35 kg (77Ibs) / 661 mm (26") x 1176 mm (46") x 194 mm (8")
100 – 240V, 60/50Hz, 80W
Oversize scanning
A1 / D-size
Scan width Arc C +30 mm = 18" +30 mm = 487.2 mm and Scan length Arc C +30 mm = 24" +30 mm = 639.6 mm

System software
NextImage5, AutoCAD® , Microstationtm, ArcGIStm and all other CAD, GIS and 64-bit TWAIN application driver included for use with EDM and other imaging software
File Formats
TIF, JPG, PDF, PDF/A, DWF, CALS, BMP, JPEG-2000(JP2), JPEG2000 Extended(JPX), TIF-G3, TIF-G4, others
Host platforms
64-bit Windows 10, 8, 7 and Vista
Certifications
RoHS, cUL, CE, Customs Union, CCC, VCCI, KC, BSMI, Ukr, ENERGY STAR certified
Large format flatbed scanner for creativity and productivity without compromise
The large flatbed surface, a fast scan speed and ultra-flexible design makes IQ FLEX the perfect solution for the demanding user. Protect fragile originals by placing them gently on the scanner bed or utilize its flexibility to scan books, textiles, original artwork any many other types of original. IQ FLEX is the most flexible A2/C-size flatbed in the market and even scans larger documents up to A1/D-size using a clever Oversize scan function.  
Key features

Sharp focus Contex CIS CleanScan+ technology with up to 1200x1200 dpi optical resolution
Scan A2 / C-size originals in 6 seconds (1)
Scan oversized originals up to A1 / D-size 
Book scan with automatic page split and spine area removal
Connect to networks via Wi-Fi or LAN
Save your scans directly to memory stick using the high speed USB 3.0 interface
Walk-up scan with rainforest365 cloud services (2) using your mobile or portable tablet device
Intuitive on-board user interface ideal for first-time users or the experienced scanner operator
Optional Nextimage 5 software for professional scanner users that require a fully-featured scanning software experience (3)
Scan papers, Mylar, polyester, canvas, card, water colours, acrylics, oil-based artwork, textiles and many other substrates (4)
Copy your originals directly to the most popular large format printers using the in-built Contex printer drivers (5)
Digitally mark-up originals without printing. Simply scan, annotate then email. No computer required!
Fully personalize your network scan connection with Contex LINK software
NOTES: Cloud services require internet connection. (1) 200 dpi color. (2) See website for rainforest365 specification. Apple iOS available initially with Android to follow. (3) Nextimage 5 is a software cost option and requires an additional external computer. (4) Sharp focus is reduced for originals placed further than 1.0mm above the scan glass.  (5) Copy print drivers included in basic scanner for many HP and Canon large format printers. See website for full list 
Flexible design means many more opportunities
IQ FLEX is able to scan virtually any type and shape of document such as original artwork, product catalogs and pages from bulky legal binders or even historical artefacts. Position the surface to be scanned flat on the scanner glass, then lower the lid to have IQ FLEX create perfectly crisp, digital images of even your most fragile or difficult to handle originals.
Up to A1/D-size originals
A simple Wizard guides the operator through the Oversize document scanning operation: simply place the document on the scanner and follow the directions. This clever feature brings valuable A1 / D-size document scanning to the IQ FLEX making it a truly versatile scanner for its size.
Book scanning at very reasonable cost
The Contex IQ FLEX is both a document scanner and a capable book scanner. Automatic book size detection, page separation and spine data removal combine to make this a device with an assured ROI (return on investment) performance.
Touch smart
IQ FLEX is equipped with a touchscreen computer the size of a small tablet PC allowing you to scan, annotate, file, copy, email and even cloud-share your digital documents in order to optimize your digital workflow.
Mark-up directly at the scanner
Save money on ink and media. No need to print before you make simple mark-up changes to your drawing, make them on the touchscreen.  Keep it digital!
Contex CleanScan+ CIS modules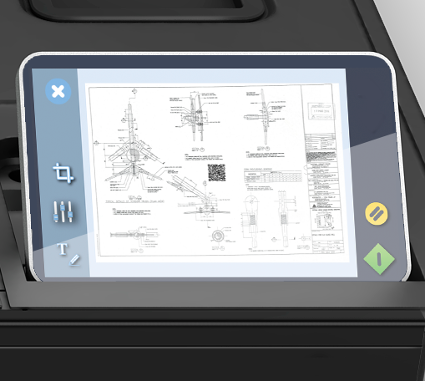 Unwanted shadows in folds and creases are removed while high-contrast CIS technology converts your documents to crisp, clean digital reproductions. Contex IQ Flex is the leading flatbed scanner for your projects.
Quality is a brand promise
IQ FLEX high color fidelity is delivered in Adobe RGB or sRGB full 48-bit color and up to 1200 x 1200 dpi optical resolution for crisp, clear, high-contrast scanning results every time.
IQ FLEX defines flexibility
IQ FLEX is unrivalled in its flexibility. Flexibility in terms of document shape, physical document depth, file save formats and choice of printer.  Flexibility in how you control, connect and share the scanner and its output.  By adding Nextimage you can even create multi-page documents.  A truly flexible scanning solution.
Cloud connected - Get images where you need them
Rainforest365 for IQ FLEX provides personalised control of the scanner when connected to the internet from any data enabled mobile or Wi-Fi connected portable computing device.  Deliver scanned images by email, to DropBox, Google Drive, Microsoft OneDrive and other cloud services.

Software
Description
Mfg#
Price
Cart
Nextimage SCAN+ARCHIVE
Contex Full-featured Productivity Scanning software
9691A601
$650.00
Add

 

 
JETimageNET Copy Software
Contex Touch-compatible Full-featured Copy software
9691A053
$1,690.00
Add

 

 


Consumables
Description
Mfg#
Price
Cart
Calibration Sheet, 18", packed
SM Calibration Sheet packed, 18"
5199A101
$270.00
Add

 

 
Filter Kit for Positive Pressure Fan
Contex Filter Kit for Positive Pressure Fan
0080C035R01
$67.00
Add

 

 
Glass Plate (Dark Grey Paper Rest)
2851D107 - Glass Plate, A2 Scanner Bx51D
5129A253R01
$1,421.00
Add

 

 
LCAC, Lamp Cartridge

6840A003R01
$956.00
Add

 

 
White Background Platen
White Background Platen (Bx51D)
5102A106R01
$416.00
Add

 

 


Boards (Electronics)
Description
Mfg#
Price
Cart
CBMC Camera Board (with CCD-Sensor and Mounting Plate)

6749D003R01
$1,450.00
Add

 

 
CRBC, Smart Card Reader

6831A003R01
$262.00
Add

 

 
CTX-Z07H, 68W SMPS, Triple Output

0080A064R01
$353.00
Add

 

 
IBAA, Inter Connection Board A

5134A001R01
$229.00
Add

 

 
Linex DC-HV Inverter

0080A063R01
$640.00
Add

 

 
LMGB, Lamp and Motor Driver

5130A002R01
$1,338.00
Add

 

 
LSBA, Lamp Sensor Board B

5133A001R01
$236.00
Add

 

 
Scanner Storage

0090B084R01
$863.00
Add

 

 
SKFB, Operator Panel (Note: SKFB04 or later for AB51A)

6836A002R01
$709.00
Add

 

 
SUGA, Controller Board

6736E001R01
$4,134.00
Add

 

 
Other Parts
Description
Mfg#
Price
Cart
Focus Pattern, 18"

5179A204R01
$248.00
Add

 

 
Key for Camera

5175A228R01
$71.00
Add

 

 
T10 Special L-Key (5 pcs.)

0008V356R01
$39.00
Add

 

 
T20 L-Key for Camera Adjustment (5 pcs.)

0601A005R01
$116.00
Add

 

 
Camera, Ax51A (excl. Lens and CBx board)

2898A110
$696.00
Add

 

 
Cap for Cover Screw (Dark Grey)(10 pcs.)

5102A237R01
$57.00
Add

 

 
Caps for Cover Fixing Screws (10 pcs.)

5102A229R01
$59.00
Add

 

 
End Cover, Front Left

5102A204R01
$357.00
Add

 

 
End Cover, Front Left (Dark Grey)

5102A238R01
$357.00
Add

 

 
End Cover, Front Right

5102A206R01
$422.00
Add

 

 
End Cover, Front Right (Dark Grey)

5102A240R01
$422.00
Add

 

 
End Cover, Rear Left

5102A205R01
$256.00
Add

 

 
End Cover, Rear Left (Dark Grey)

5102A239R01
$256.00
Add

 

 
End Cover, Rear Right

5102A207R01
$227.00
Add

 

 
End Cover, Rear Right (Dark Grey)

5102A241R01
$227.00
Add

 

 
Fan, Electronics Box

0080C029R01
$116.00
Add

 

 
Fan, Lamp Carriage

0080C038R01
$126.00
Add

 

 
Fan, Positive Pressure

0080C039R01
$146.00
Add

 

 
Flex Cable (Lamp Carriage)

5135A108R01
$173.00
Add

 

 
Hinge Assembly (2 pcs.)

5102A107R01
$534.00
Add

 

 
Inlet

0007S046R01
$77.00
Add

 

 
Lamp Door

5102A222R01
$67.00
Add

 

 
Lamp Door (Dark Grey)

5102A250R01
$61.00
Add

 

 
Lid (wo White Background Platen)

5102A244RA1
$1,848.00
Add

 

 
Lid (wo White Background Platen)

5102A244RN1
$1,848.00
Add

 

 
Optointerrupter

0075A050R01
$55.00
Add

 

 
RFI-Filter

6833A119R01
$128.00
Add

 

 
Safety Interlock Switch

0007E172R01
$116.00
Add

 

 
Stepper Motor

0080C043R01
$355.00
Add

 

 
Vibration Grommet for Motor (10 pcs.)

6763D201R01
$93.00
Add

 

 
Contex IQ Flex
External power supply

Calibration poster
Calibration sheet and cleaning clothTe
2 m Ethernet cable
Installation guide

Standard Warranty:
24 months parts only.

Extended Spare Parts Warranty
Description

Mfg#

Price

Cart

1 Year Warranty Extension for Spare Parts


Extends spare parts warranty to 3 years. Must register scanner within 3 months of delivery.

2898A124

$554.00

Add 

 

3 Years Warranty Extension for Spare Parts


Extends spare parts warranty to 5 years. Must register scanner within 3 months of delivery.

2898A125

$995.00

Add 

 

1 Year Warranty Extension for Spare Parts - POST (within factory warranty)


Extends spare parts warranty to 3 years. Must register scanner within factory warranty.

2898A141

$782.00

Add 

 

3 Years Warranty Extension for Spare Parts - POST (within factory warranty)


Extends spare parts warranty to 5 years. Must register scanner within factory warranty.

2898A142

$1,495.00

Add 

 
On-Site Warranty
Description

Mfg#

Price

Cart

Onsite Service - 2 years - HD


Optional 2 Years On-site Warranty for HD scanners -pricing available at time of purchase with a new HD scanner.

2898A118HD

$995.00

Add 

 

Onsite Service - 3 years - SD/IQ44 or HD


3 Years On-site Warranty Available only at time of purchase.

2898A119

$2,020.00

Add 

 

Onsite Service - 4 years - SD36/IQ44 or HD


4 Years On-site Warranty Available only at time of purchase.

2898A120

$2,765.00

Add 

 

Onsite Service - 5 years - SD36/IQ44 or HD


5 Years On-site Warranty Available only at time of purchase.

2898A121

$3,610.00

Add 

 

Onsite Extention - 1 year - SD36/IQ44 or HD (in warranty)


1 Year On-site Warranty Extension -for products currently under warranty

2898A122

$1,295.00

Add 

 

Onsite Extention - 1 year - (XD24/IQ24, SD36/IQ44 and HD - (post warranty)


1 Year On-site Warranty -for products NOT currently under warranty. Not available on past models.

2898A123

$1,395.00

Add